Direct Selling Draft Guidelines Launched in Kerala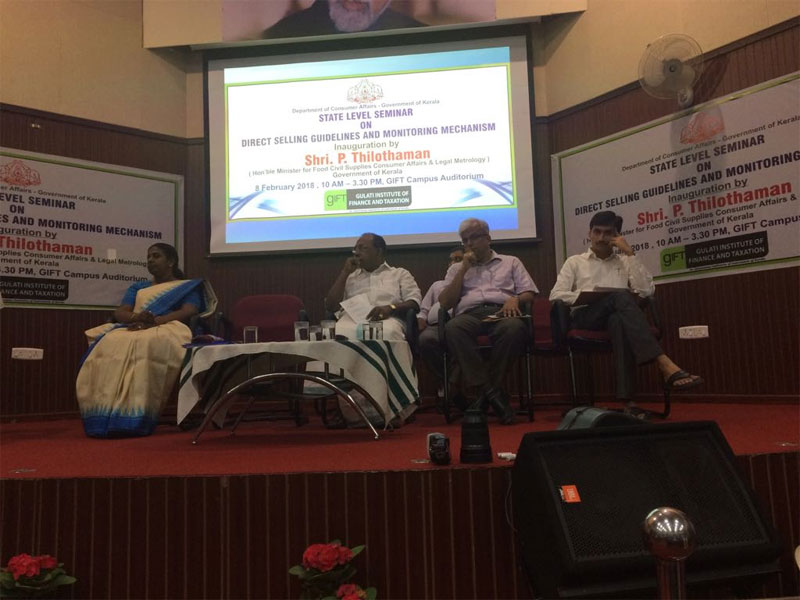 A seminar on multi level marketing and direct selling guidelines was held on 8th February, 2018 at Gulati Institute of Finance and Taxation, Sreekaryam at Trivandrum in Kerala from 9:30 am to 3:30 pm.

The inaugural address was given by Shri P. Thilothaman, Hon'ble Minister for Food, Civil Supplies, Consumer Affairs, Legal Metrology, Government of Kerala.

Smt. Mini Anthony, IAS and Secretary, Food, Civil Supplies & Consumer Affairs was also present during the event.

Dr. Thoomkuzhy spoke on "Central Guidelines on Direct Selling and other Relevant Statutes for Monitoring the MLM/Direct Selling Business in India" during the 1st session.

During the 2nd session, he spoke on "State Level Monitoring Authority Enforcement Mechanism – Proposed Guidelines".

Model guidelines for setting up a new regulatory mechanism for monitoring the activities of direct sellers in Kerala were discussed as well. During the last session, an interactive & wrap up session with stakeholders was held.

FIDSI representatives also attended this event. President Mr.Ravinder Kumar and Vice President Mr. S.K. Chaudhary stated their views during the event.

"We feel that this is a step in the right direction. We welcome this move.", added a senior FIDSI official at the end of the event.