FIDSI Meeting In West Bengal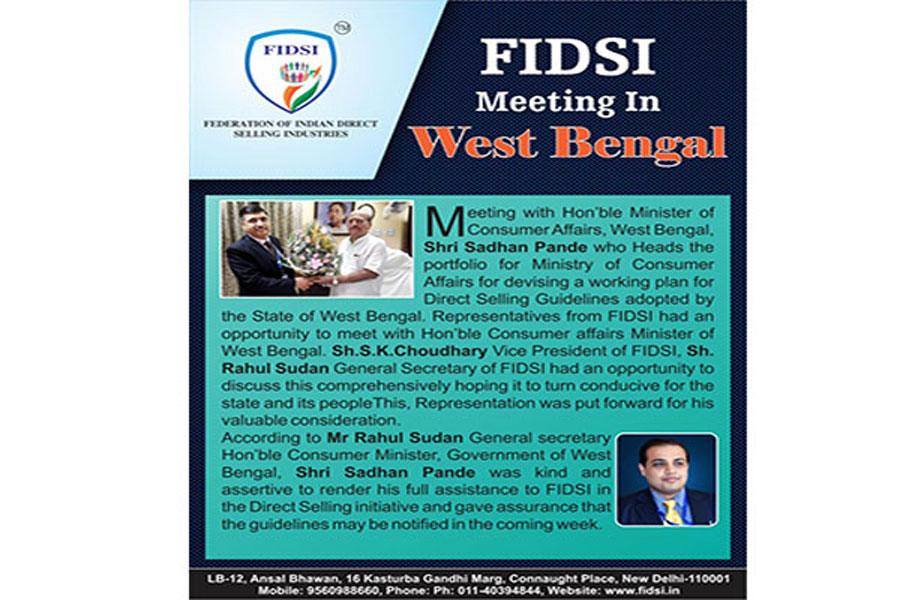 Meeting with Hon'ble Minister of Consumer Affairs, West Bengal, Shri Sadhan Pande who Heads the portfolio for Ministry of Consumer Affairs for devising a working plan for Direct Selling Guidelines adopted by the State of West Bengal. Representatives from FIDSI had an opportunity to meet with Hon'ble Consumer affairs Minister of West Bengal. Sh.S.K.Choudhary Vice President of FIDSI, Sh. Rahul Sudan General Secretary of FIDSI had an opportunity to discuss this comprehensively hoping it to turn conducive for the state and its peopleThis, Representation was put forward for his valuable consideration.

According to Mr Rahul Sudan General secretary Hon'ble Consumer Minister, Government of West Bengal, Shri Sadhan Pande was kind and assertive to render his full assistance to FIDSI in the Direct Selling initiative and gave assurance that the guidelines may be notified in the coming week.